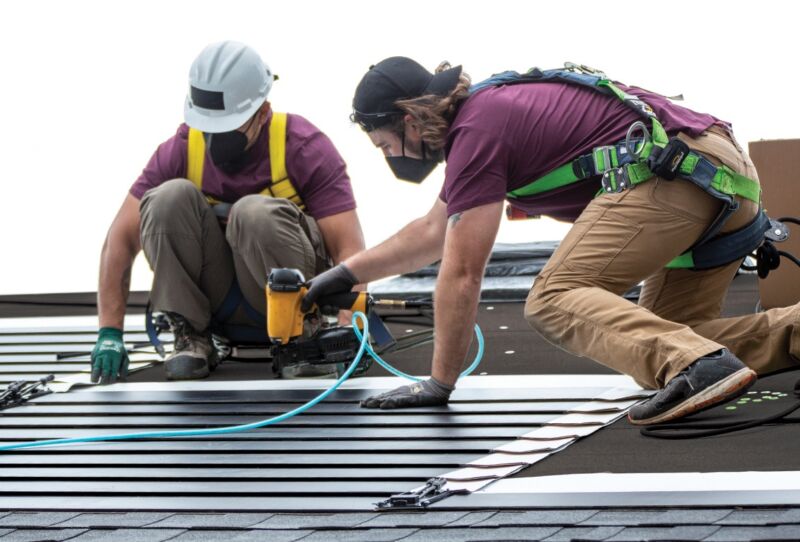 A new solar technology introduced yesterday at CES could bring power-producing roofs mainstream by relying on an old building material—nails.
For years, homeowners who wanted solar power have stripped their old roofs of shingles, added new ones, and then slapped large solar panels on top using sturdy frames. It's a model that works well, but it also creates a two-step process that engineers have been striving to simplify.
Plenty of companies have offered their own take on solar roofs, but so far, they've remained niche products. GAF Energy is hoping to change that with the Timberline Solar Energy Shingle that looks strikingly like typical asphalt shingles. But their key feature isn't so much that they emulate the look of asphalt shingles, but that they're installed in nearly the same way. Roofers can slap the flexible sheets down and nail the top strip to the roof, just like they do for traditional roofs.
By relying on the shingle installation process, GAF Energy is counting on the scale of the roofing industry to make solar more accessible. "The roofing ecosystem is 20–30 times larger than solar. In the United States, 200,000–300,000 people get a new solar system each year. Over 5 million get a new roof," Martin DeBono, CEO of GAF Energy, told Ars. "Our innovation is you now have a nailable solar roof, which fits the way that the majority of roofs are installed."
New spin on an old idea
The solar roof concept has been around for years, and so far the best known is Tesla's. Their solar roofs are stylish and subtle, with power-producing shingles that are nearly indistinguishable from regular tiles. But despite several revisions, they remain challenging to install at a reasonable cost. Just this year, the company significantly increased the cost of its solar roofs, adding a "roof complexity" factor that affects the total price.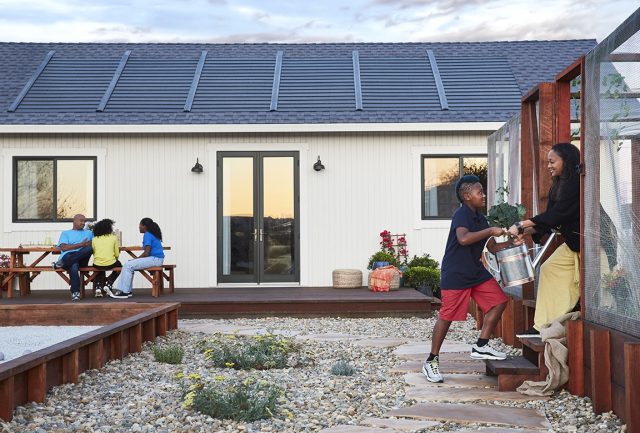 GAF Energy's approach attempts to simplify several parts of the process. The first, DeBono said, is customer acquisition. Solar installers spend enormous sums to sign up new customers, which gets added on to the price of each installation. Last year, installers spent $0.75 per watt to find new customers, according to analysts at WoodMackenzie. On a typical 7 kW system, customer acquisition adds $5,250, or about 23 percent of the system's cost. By comparison, DeBono said that "roofers spend very little on sales and marketing."
The company sought to reduce the time and complexity of the installation process by using a format that roofers are familiar with. They also increased the dimensions of each shingle, which reduces the total install time for the entire roof.
Lastly, GAF Energy moved much of the wiring on top of the roof rather than burying it beneath the shingles. Rows of solar shingles are daisy-chained together and connected with wiring runs that look like seams on a metal roof. Each wiring run supports 2 kW of solar panels. Roofers make the electrical connections between shingles, and an electrician inspects them all when installing the inverter and tying the system into the grid.
Plenty of tweaks
Engineers changed the wiring layout based on the company's experience with previous generations of solar roof. "With our current product, Decotech, the wires are underneath," DeBono said. "It's a bear when the inspector wants to see the wiring—you're taking off flashing. And similarly for other built-in photovoltaic roofs if the inspector says, 'I want to see all the connections are made,' you're going to be popping up the waterproof layer to show them." With the new top-mounted system, installers just have to pop off a waterproof cover. It's an approach that should also make troubleshooting and repairs simpler.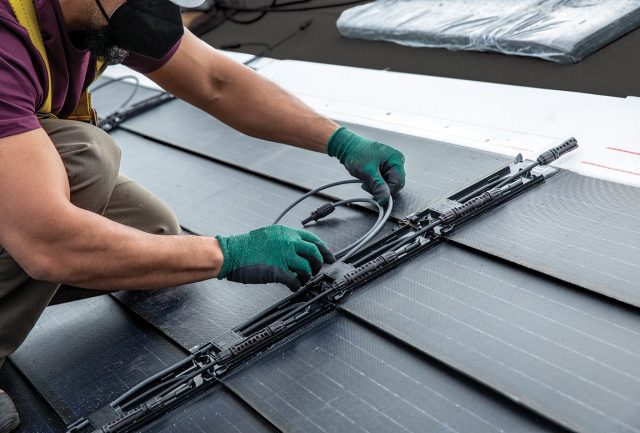 DeBono also said that the panel's smaller scale made it easier to wring more efficiency out of the system. "Because each one of our panels is 45 Watts and only 10 volts, we have access to a whole host of electronic components that don't have to be able to withstand 300 Watts, 50 volts," he said. "That allows us to be more efficient in the electricity generated from those panels." 
The panels themselves are made out of monocrystalline PERC cells, which stands for "passivated emitter and rear contact," a type of construction that allows some of the photons that pass through the panel to be reflected back to it. That helps boost efficiency to 23 percent per cell, DeBono said. (He wouldn't say who their supplier is but made a point to say that they're not made in China.) The cells are fixed to a flexible substrate and topped with a hardened glass that'll withstand hail. The entire system can withstand hurricane-force winds up to 130 mph, and it's Class A fire rated. UL certified the shingles as both solar panels and roofing materials, a first, and they can be walked on like traditional shingles.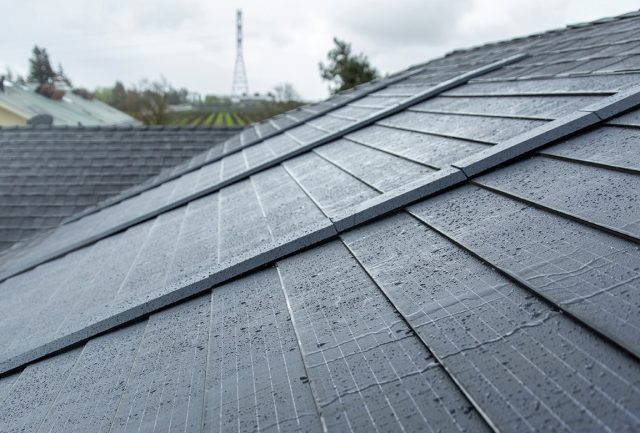 Though the entire system uses one inverter, GAF Energy added electronics to the panels to allow them to cope with shading. And because the solar shingle panels are relatively small, they should be able to deliver more power under shady conditions than traditional, larger panels.
The entire roof comes warrantied for 25 years, and DeBono said they will be offering a more comprehensive warranty that will also include guaranteed power output. Plus, he points out that GAF Energy's parent company, Standard Industries, has been around for over a century. "Whether we succeed or fail, the parent company is going to be around to honor our warranty claims," he said.
Is the price right?
The big question, of course, is price. DeBono wouldn't give a hard number since the total cost includes installation and the rest of the roof, all of which vary by market. But "a homeowner won't pay any more for a GAF solar roof than they would if they were to get a new roof and have someone put solar on it. That's our benchmark," he said. "We're half the cost of a Tesla solar roof in any given market right now."
Though GAF Energy announced the shingles yesterday, DeBono said they've already been installing them in various markets in the US. "We've actually installed this. We've got permits, we've passed inspections."
DeBono is hoping that, by selling a new roof and solar power as one package, his company can convince more people to go solar. "What we say," he said, "is that with this roof, mister and misses customer, you can generate enough electricity that it will not only pay for the solar system, but also pay for the roof itself. And that's a very compelling value proposition."